How to pick the right swimsuit for your shape and budget
Don't let swimsuit anxiety ruin your summer! There really is a great swimsuit out there for everyone.
Shopping for a swimsuit can make even the most confident of us feel anxious. When wearing a swimsuit, we want to feel confident, comfortable, stylish and supported, especially if we are running around after kids in the surf or at the pool.
Our Healthy Mummy stylist, The Style Trooper Julie-Ann Aspinall, has shared her advice on how to buy the right swimwear for different body sizes, heights and shapes. As well as your budget.
In this article, you'll find out:
The best swimsuit for body type
Budget alternatives of swimsuits that suit your body type
Tips for shopping for a swimsuit to suit your body shape
Top tips when shopping for the right swimsuit for your body
The humble swimsuit has come a long way since it was first seen in the 1800s, and there really is a swimsuit out there for your lifestyle, budget, shape, colouring and style.
Knowing the best style of swimwear for your shape and your lifestyle is essential, as there are so many different swimsuits to choose from – full pieces, tankinis, bikinis and other retro styles.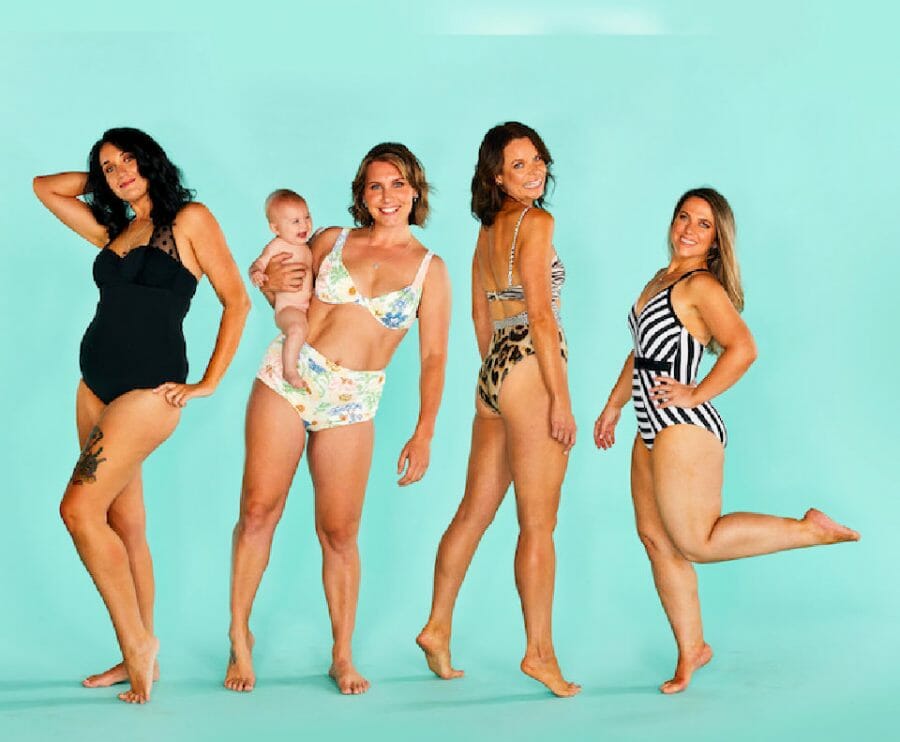 Our stylist shares what the best swimsuit is for your shape
We share these tips on how to shop for the best swimsuit for your body shape in the hopes that it gives mums the confidence to get out there this summer!
Body type: curvy and petite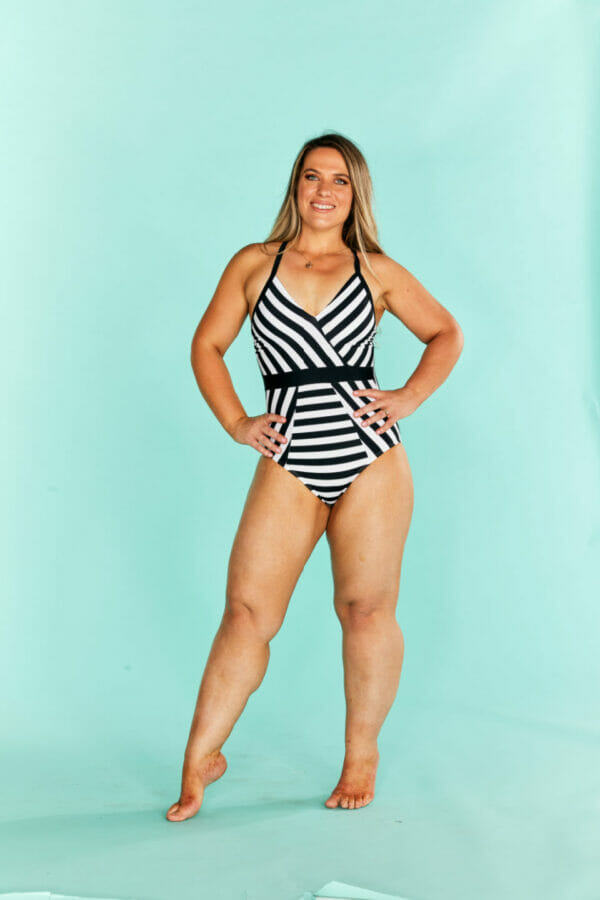 Swimsuit recommendations: One piece, medium leg cut, thin straps and medium plunge neckline in black and white bold stripes
How it flatters your body: Simple and modest, that elongates legs and the v neckline flatters and supports the bust and shoulders along with bold flattering directional stripes accent her waist and curves.
Practical, no fuss and comfortable.
Budget-friendly alternatives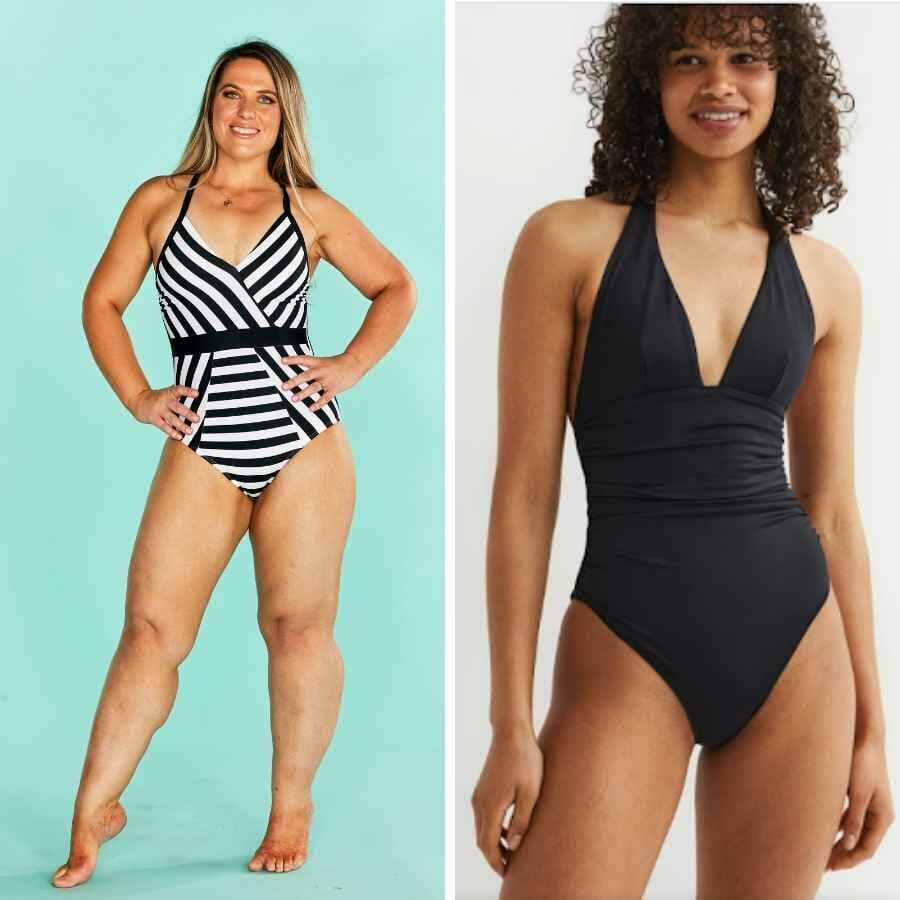 For Cassie's curvy and petite body type, a control swimsuit is recommended you can spend $72 and get the Pour Moi Fuller Bust stripe panelled control swimsuit or the budget alternative Cassie is wearing from H&M, which costs $59.
Body type: curvy and tall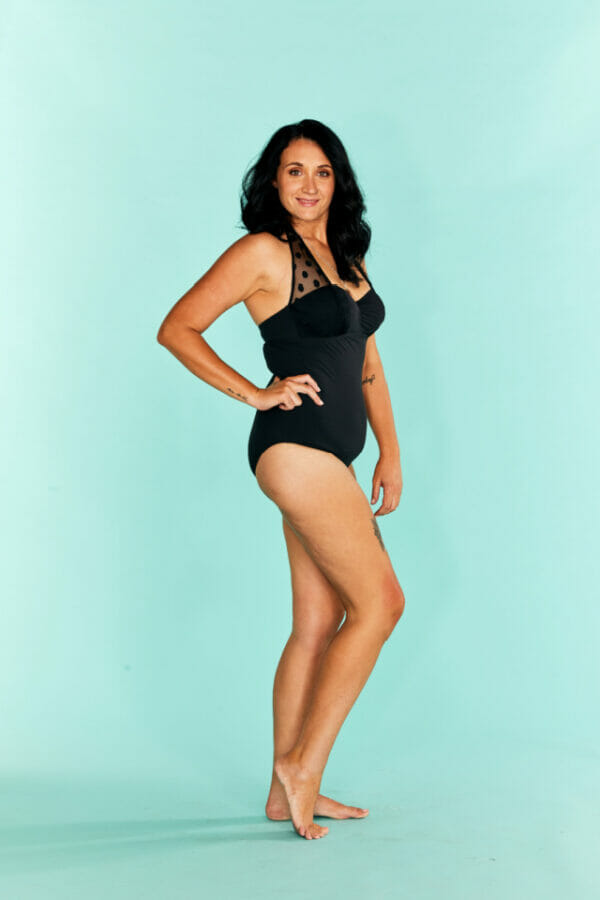 Swimsuit recommendations: Retro Style sculpted, a halter full piece in simple black
How it flatters your body: Longline halter neck with sculpted bust and modest leg cut.  This is flattering on a long body and long legs and the netted halter neck adds a feminine touch and adds support and lift to the bust.
It's also a practical and comfortable fit.
Budget-friendly alternatives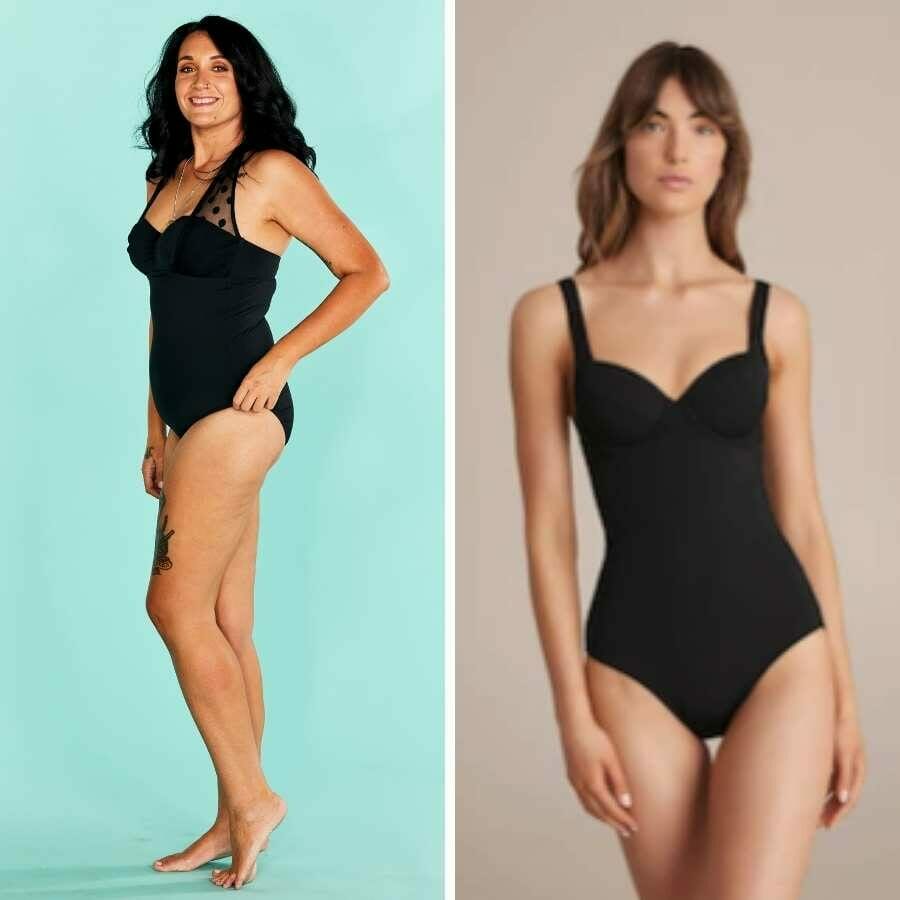 Melanie wears an ASOS Figleaves Fuller Bust spot mesh underwired halter, which costs $130 (on sale at $50) but you can get a similar alternative from Target for $40.
Body type: athletic body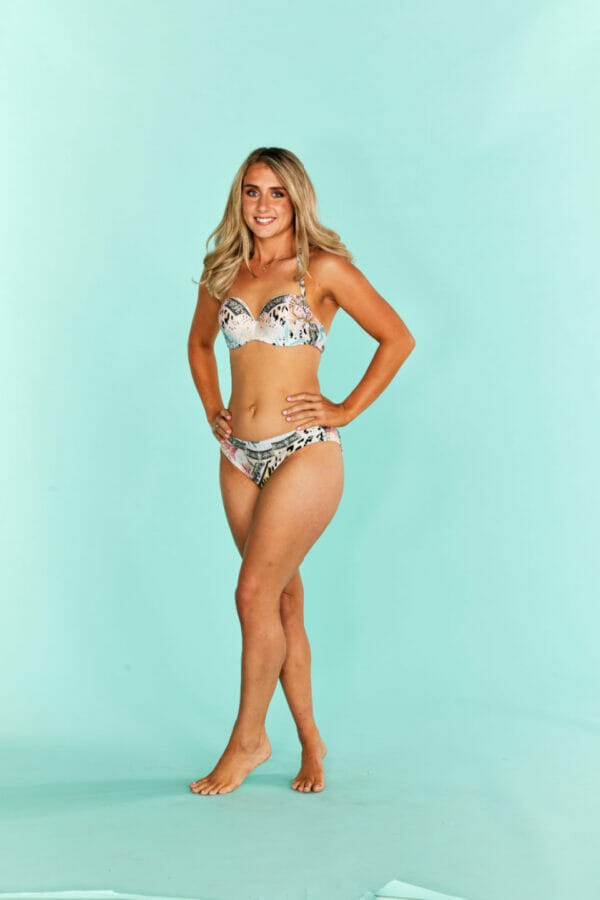 Swimsuit recommendations: High-cut leg, feminine pastel print bikini with a sculpted balconette top
How it flatters your body: The cut of this bikini is classic and perfect for strong athletic body shapes.  The top adds volume and supports the bust, and the high-cut brief bottom elongates legs to make you look tall, strong and feminine.
Budget-friendly alternatives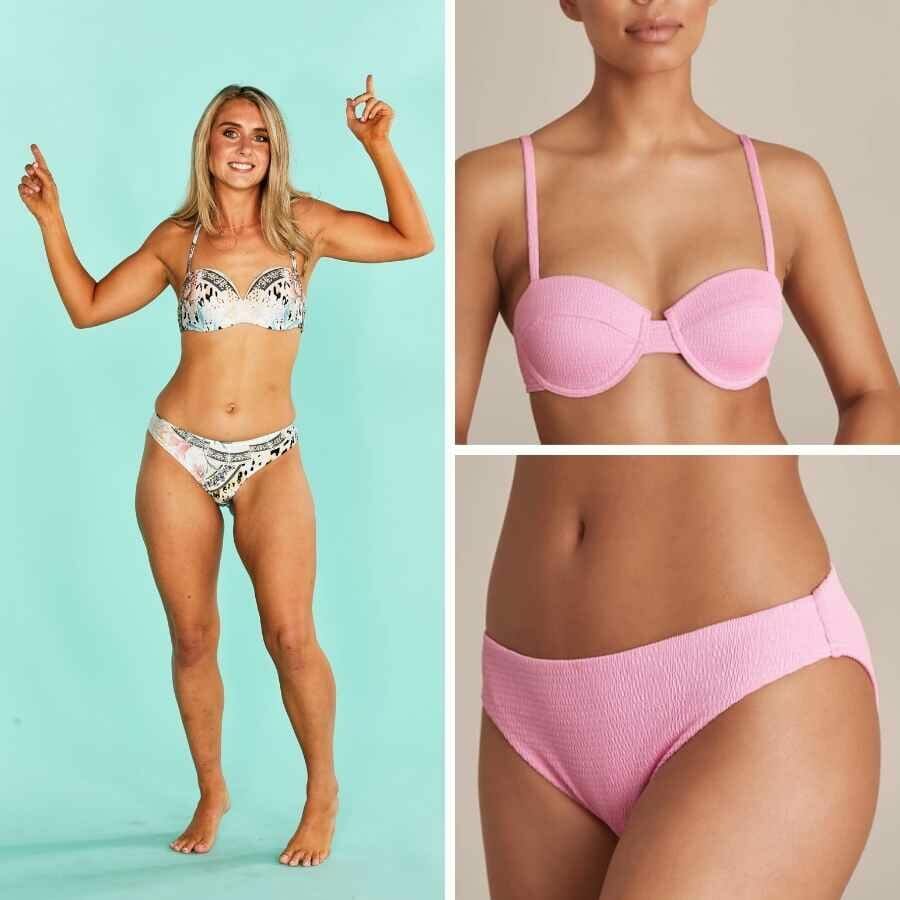 Emma looks amazing in the River Island floral leopard print balconette bikini top which costs $78 for the set (on sale it's $35) but you get a similar set that suits an athletic body from Target for $40.
Body type: Petite with gentle tummy support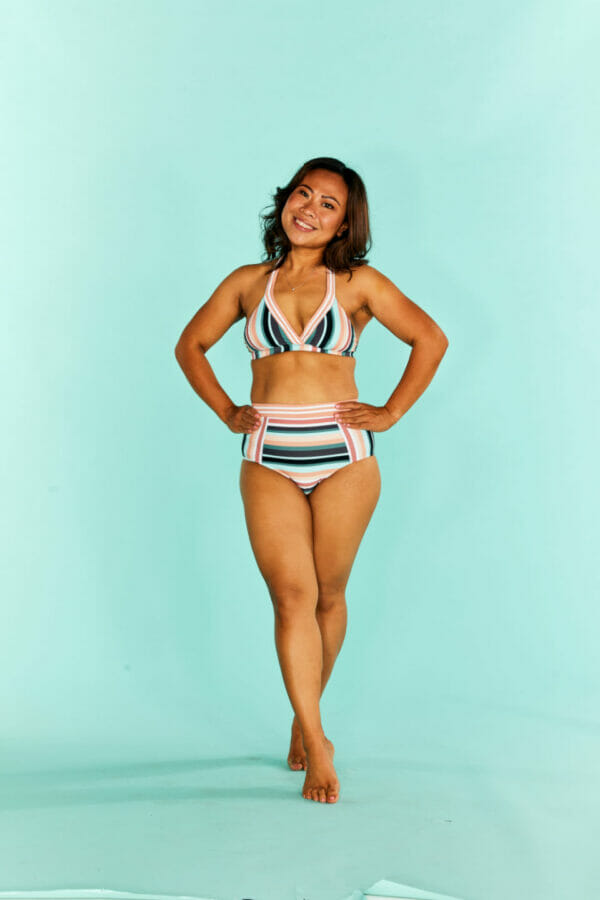 Swimsuit recommendations: Retro look high-waisted striped, halter bikini in neutral colours
How it flatters your body: High-waisted bikini with contoured halter top with stripes to accentuate bust and curves.
A high-waisted bikini is super practical and offers support for the bust and tummy.  A neutral-coloured bikini top flatter the bust and a striped bikini bottom deflect away from the tummy.
Budget alternatives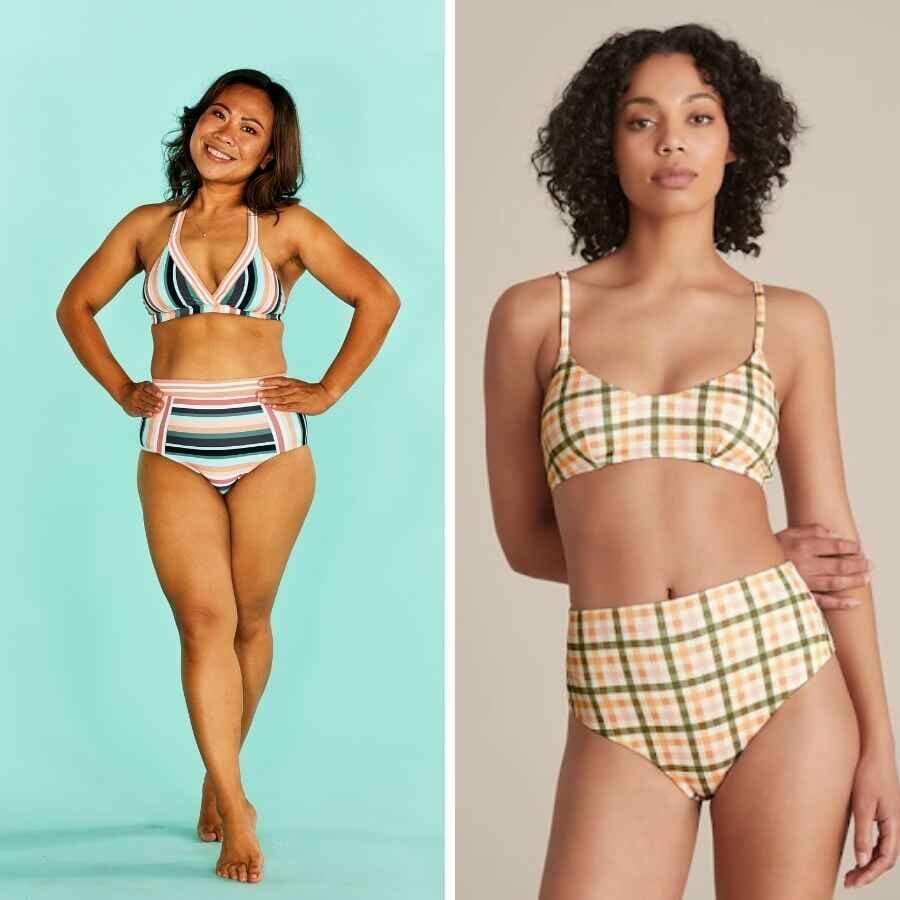 Lina is wearing a Jets retro bikini which retails for $150 a set but you can get a Target bikini set for $45.
Find the right swimsuit for any concerns you might have about your shape!
Large bust: It's all about having proper support and coverage. This may mean investing in a bikini or swimsuit with an underwire or spending more money on a more structured design and fabric. You're also likely looking for bust support while you're breastfeeding like Sascha is below.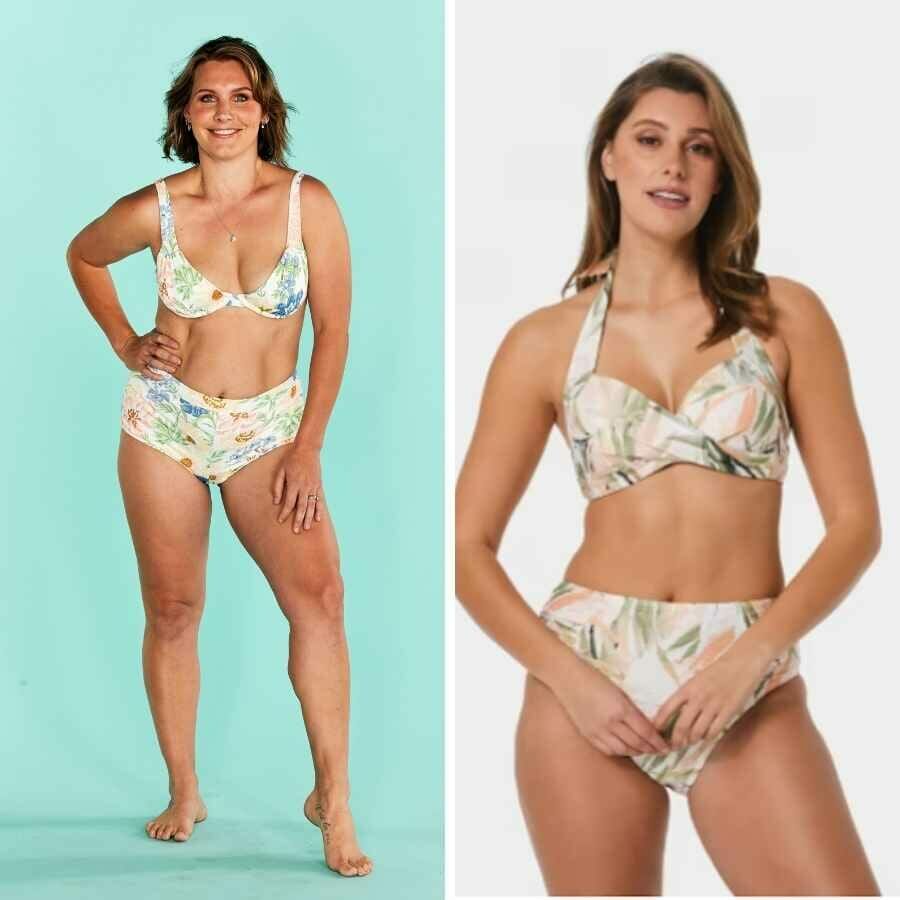 Budget-friendly alternative
Sascha looks amazing in this U R a Dream bikini which costs $145, but if you're looking for a budget alternative, you can grab this cross-front halter with retro pants bikini from K-Mart that costs $30.
Tall and athletic: Cut-out swimmers can help create that hourglass shape and these are on-trend right now. Ashana is showcasing one of the fantastic cut-out options on the market below.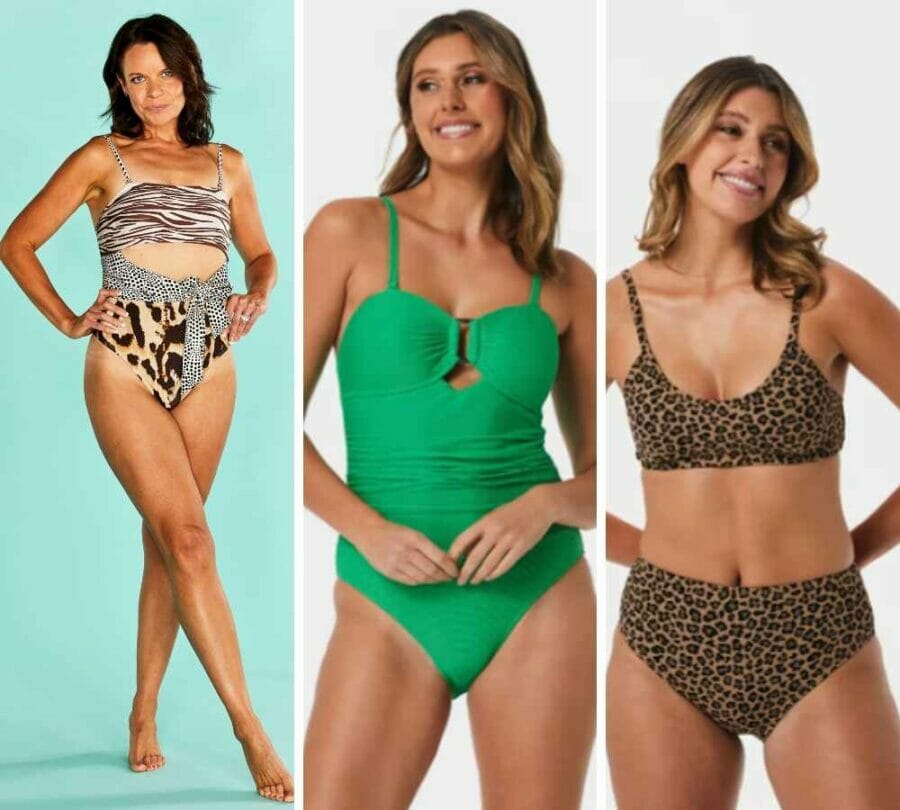 Budget-friendly alternative
Ashana is wearing a gorgeous River Island mixed animal print bandeau cut-out that costs $72, but you can get a similar look from K-Mart with either the cut-out full-piece or bikini, which are $25 or $24, respectively.
Tall and loves tummy support: Utilise high-waisted bikinis, which will offer you the tummy support you're looking for. Jess has just had baby number 6 and looks amazing in this high-waisted bikini that offers her the support and style she's seeking.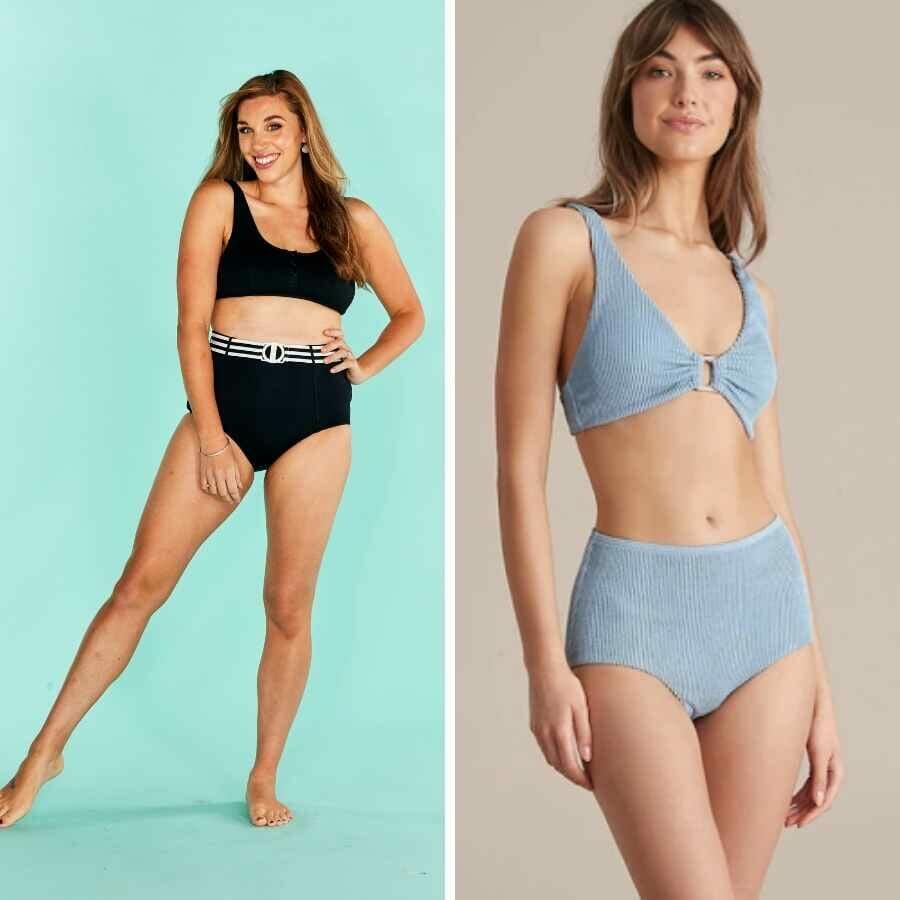 Budget-friendly alternative
Jess is now a mum of 6 and looks amazing in the Seafolly set that flatters her body and costs $150, but you can get a similar set from Target, which costs $50 a set.

Plus-sized: Bold and bright two-piece swimsuits will suit a larger woman who wants to stand out and enhance her natural curves. Lauren looks fantastic and beach-ready in this beautiful and bold blue two-piece.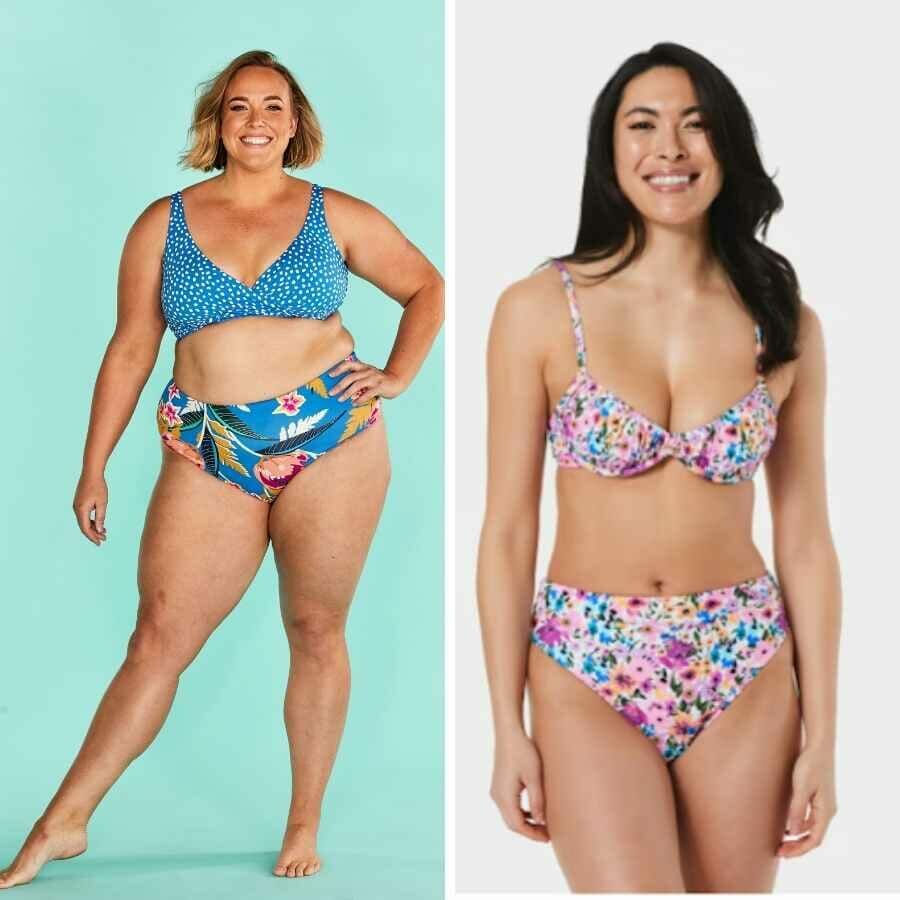 Budget-friendly alternative
Lauren looks amazing in the A'Pois Blue Delacroix reversible Bikini, which costs $160, but you can find a bikini just as flattering at K-Mart for $24.
Tips for finding a swimsuit to suit your body shape…no matter what it is
We've got some advice for any of the other concerns you may have.
Smaller bust: Halter tops and tops with gathering, sculpted, padded cups or ruffles will give the illusion of a fuller bust.
Curvy with small shoulders: A one piece with a v or u-shaped neckline to accentuate your bust and shoulders and you can choose pieces that have ruffles or a fun pattern for the top and a plain bottom.
Disguise back fat: Go for thick straps and a high back and be sure that the suit is not too tight and cut into your skin and make it bulge.
Distract the eye from your tummy: Try swimmers with ruffles on the top and block colours underneath to divert attention away from your stomach and thighs. High-waisted bikini bottoms also give the illusion of longer legs and a trimmer tummy.
Long torso: You could always wear swim bottoms that are cut higher to help make your legs look longer.
Short torso: Low-rise bottoms make your torso appear longer and add a strappy halter to draw attention to your neck and shoulders,
Flat bottom:  Showing a little bottom cheek with colour, prints and frills will add volume to your bottom and make it appear more curvaceous.
Large bottom: Go for bold printed tops and solid colour bottoms, which will balance the look of your body.
Some more amazing tips from our Healthy Mummy stylist
1. Shop on a day that you are feeling happy and positive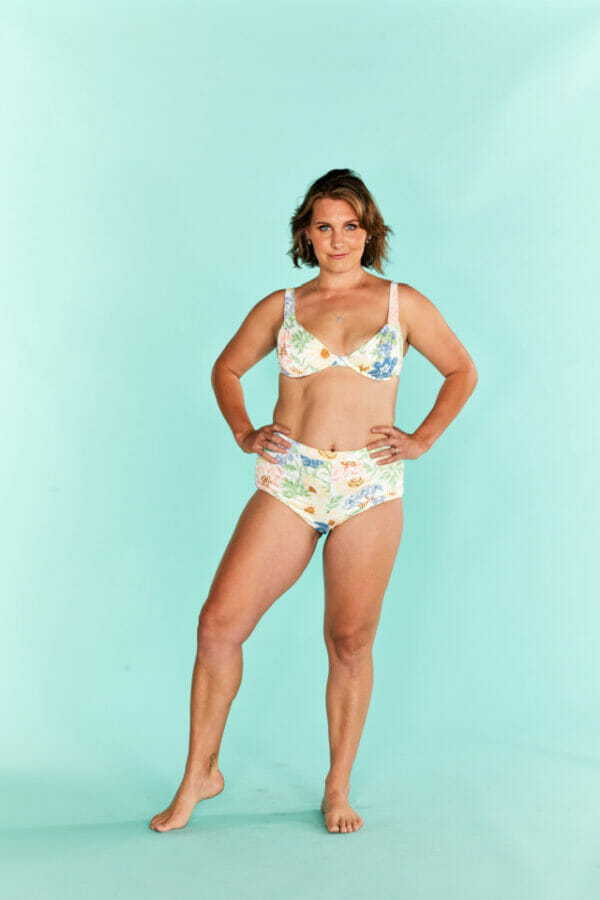 You'll feel better about what you're wearing when you're in a good mood as opposed to if you're feeling negative.
It could set you back if you aren't feeling great about yourself and allow yourself to enjoy the shopping as it's meant to be fun!
2. Have a style in mind that you like and that suits your body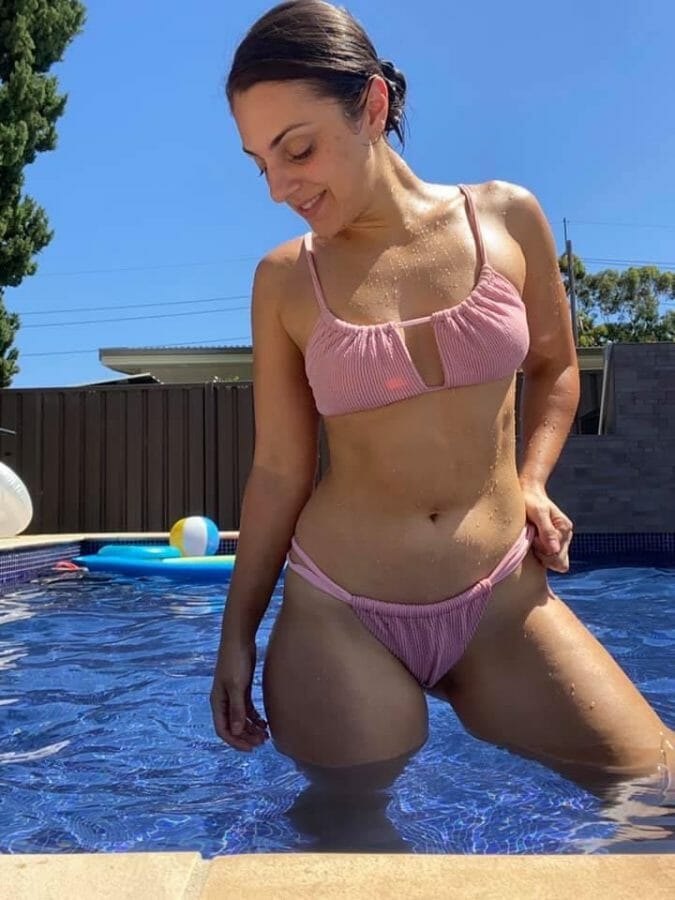 Remember, it's about YOU! So, try to avoid the trends if they do not work for your body shape, and go for what suits your shape and lifestyle.
3. Try to stick to your budget, but spend what you can afford if you will be wearing your swimsuit a lot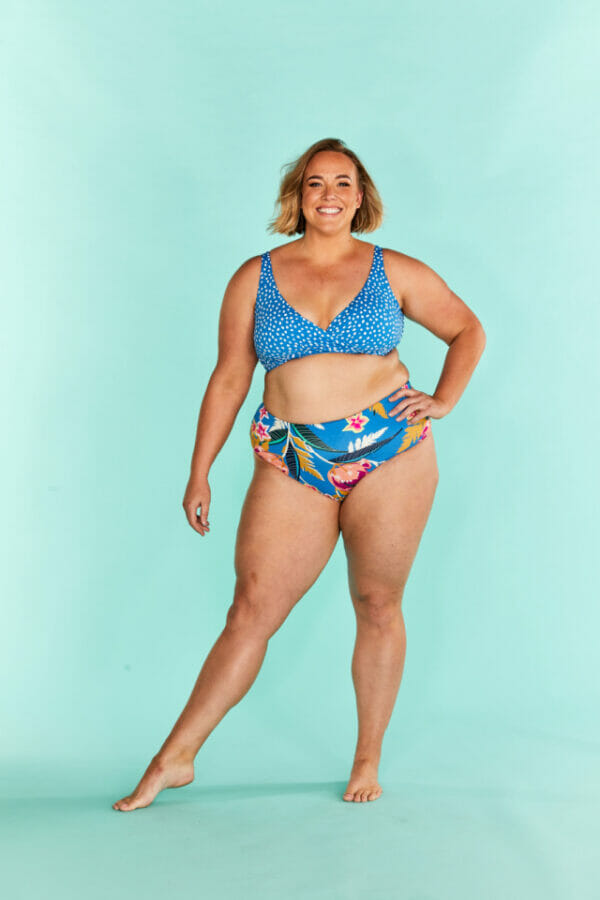 If you need a little more support or sculpting, then these things may cost more. But if you need to splash a bit extra in order to help you feel confident, then it might be better value for money in the long run, as you won't need to keep buying swimsuits!
Swimwear is one of those things that you should spend what you can afford to be sure you get what you need, as the more expensive bathers are generally made from more durable, supportive and comfortable fabrics and are designed and cut to flatter and camouflage where needed.
4. Make sure you feel comfortable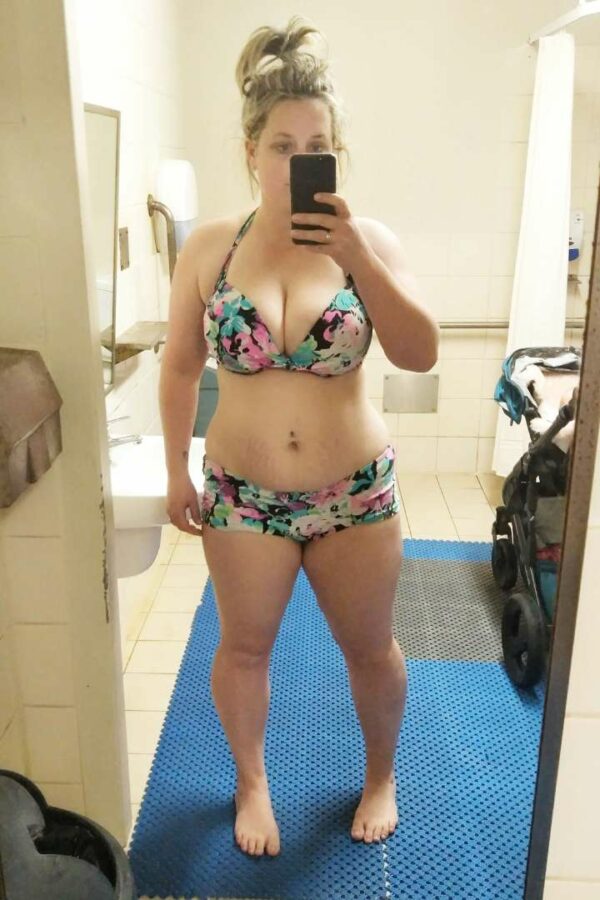 There's nothing worse than having to keep adjusting your swimmers! And if you're not going to be able to run after the kids or are worried about busting out of your bikini top, then those particular togs may not be appropriate for your lifestyle.
Note: Consider what you need your swimsuit for; running around with kids but still wanting to look feminine, choose a plain colour to achieve a practical but sophisticated look.
5. Seek out the brand of your last great swimsuit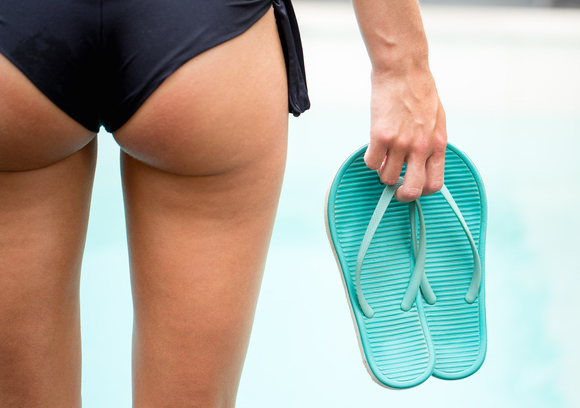 If you love your swimsuit, but it's looking a little tired, try to find that same one again. If it worked for you before, then it will work for you again. Maybe you can go for a different print or a slightly different style but go with what makes you feel good.
You don't just want to find a swimsuit to suit your body shape but also your budget
You don't need to splash out on expensive swimmers! You can find some incredible cheap but also elegant ranges for $50- $100 at Target, ASOS, Shein, Kmart and Big W, as well as other lower-budget stores.
The key is to shop around and find a style and price that works. But remember, this is just a guide. Ultimately, it's about YOU feeling good!
There is nothing more liberating than feeling great in your swimsuit.  We hope these tips help and you will find a swimsuit that's perfect for you in every way.
Feel body confident this summer! Join the 28 Day Weight Loss Challenge
With more than 4,500 delicious (and healthy) recipes, 350 exercises & 24/7 support – the 28 Day Weight Loss Challengeis designed (and proven) to help busy mums like you lose weight!
To learn more about our challenge OR to join – click here.
Please follow and like us: